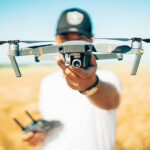 Drones are providing solutions to a range of challenges faced by agricultural sectors from mapping to weed and pest control in a safe and cost effective way.
BRALCA provides a range of unmanned systems and training options from beginners through to licensed pilots.
Cheif Pilot: Paul Morgan
REoC Accredited Pilots: Ben Watts and Paul Morgan
Solutions Explored
Mapping
Survelliance
Spraying of hard to reach weeds
Emergency contactless delivery
Pest Animal Monitoring
Pilots operating aircraft from the safety of their ground control Station
Find a Drone Contractor
We are well connected within the Agricultural Industries right across Australia having worked with or trained thousands of operators. If we are unable to assist we will refer you amongst our networks.
Brewarrina Fish Traps Assessment