How the Australian beef industry can capture the value of unmanned aircraft on-farm will be the theme of Meat & Livestock Australia's (MLA) next Beef Industry Breakfast in Brisbane on 18 October.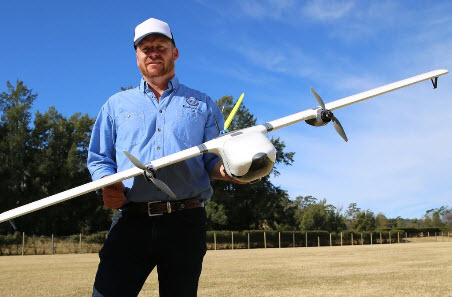 The event will discuss current and future applications for remotely-piloted aircraft systems (RPAS) for beef operations and showcase research and development investment in this space.
MLA Donor Company (MDC) General Manager, Sean Starling, said MDC is investing with commercial partners to make this technology a reality.
"The increasing use of autonomous systems on farms, the Internet of Things and the need to capture more quality data for productive and profitable management decisions will drive the industry beyond 2020," Mr Starling said.
"Innovations in drone application have significant potential for the beef industry. Unmanned aircraft automation or the use of remotely-piloted aircraft systems has many advantages for large properties typical of northern Australia."
Ceres Tag co-founder and CEO, David Smith, will facilitate the Beef Industry Breakfast, and topics and guest speakers will include:
On-farm application of RPAS: how best to use a drone for your operation - Ben Watts, BRALCA, NSW
Transferring applications to an Australian context - David Journay, Director and Chief Remote Pilot, Aerodyne Australia
Autonomous drone systems: defining the application across extensive beef operations - Owen Keates, Country Manager and Associate Vice President, Hitachi Consulting
How the Civil Aviation Safety Authority manages expectations and use of drones for the agriculture sector - Brad Mason, secretary of the Australian Certified UAV Operators Inc.
https://www.mla.com.au/news-and-events/industry-news/breakfast-to-explore-beef-industrys-drone-potential/